JSNA population cohort model
The JSNA population cohort model seeks to transform the Kent JSNA into a forward planning commissioning tool. It uses 'systems dynamics', a well-established research methodology, to model possible impacts of key policy and service capacity changes.
Some of the reports on this page may not be suitable for users for assistive technology. Request an accessible format.
The model
The JSNA population cohort model is a predictive tool developed to forecast future health and care needs of the Kent population. The forecast is categorized across two key groups – adults, and children and young people. The model tests the potential impact of 'what if' scenarios focusing on additional investment on prevention.
The model is currently available in the following sub Kent areas:
The model integrates and synthesizes relevant figures from a variety of sources to estimate the extent to which a range of factors, acting in combination, can explain or predict certain health outcomes. Key outputs include projected incidence, prevalence of long term conditions as well as population cohorts relevant for the Kent and Medway Sustainability Transformation Partnership (STP) areas, including, for example, those affected by adverse childhood experience (ACE) as this is modelled into later life.
The introductory video below describes steps to follow in the use of the tool. Further information o can be found in the technical guide.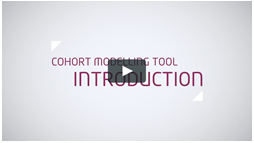 Please note that this approach is designed to generate a broad range of outputs rather than single precise answer. For an assured consistency in the interpretation of results, users are advised to discuss their analysis and outputs with the KCC Public Health Team.
Community of practice
Following on from the completion of the cohort model, a Community of Practice (CoP) (PDF, 741.3 KB) in advancing applied analytics has been developed. The CoP, funded by The Health Foundation, supports a group of individuals and associates across organisations in the Kent & Medway STP. It aims to develop skills and insight into modelling approaches for complex adaptive systems such as health and care, with a key focus on system dynamic modelling (used to develop the cohort model above).
The project began in March 2018, and plans to extend through to the summer of 2019. It will be evaluated by an academic partner. For more information on the CoP or the population cohort model please contact abraham.george@kent.gov.uk.